Learning to Be Happy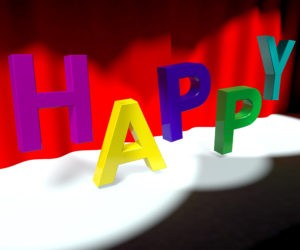 Part of living your best life is being able to achieve goals that you set. Happiness can contribute greatly to you getting the life that you want. People who are unhappy are basically sending a message to the universe that what they want is not a possibility or that they do not deserve a happy life. Happiness is all about understanding that you can have what you want and that if you work it, eventually everything will turn out okay. If happiness seems to be a challenge for you, then activating these simple strategies will help when it comes to learning to be happy:
Decide to Be Happy -no matter what happens to you in your life, if up to you to decide how you want to feel. As Wayne Dyer once said, "how people treat you is their karma. How you react is yours." If you need some help with understanding your personal happiness, read Before Happiness by Shawn Achor.
Be Sure Not to Criticize – it is easy to find fault with others. Instead of criticizing and finding things wrong with others, situations or your life try expressing gratitude. Find ways to build relationships. It may sound corny, but having a theme party is a great start.
Lighten Up on Yourself – everybody makes mistakes. The object of the game is to learn from the mistake, express forgiveness if you need to, let it go and move forward.
Don't Define Your Life with Things – Simply buying yourself things to feel good or be to make yourself happy is a temporary fix. Purpose your heart and mind to make meaningful connections with others or consider connecting with a group that will inspire you to achieve something meaningful.  happiness will stick with you, even during those times you are alone.
Have Fun – Find ways to do something that excites you and makes you laugh. Sometimes we feel unhappy when we spend all our time working or focusing on the challenges of life.  Taking the time to have fun will relax you and stimulate your creativity. Going to an amusement park will give you the spark needed to give your happy meter a boost.
Pat Council is a Goal Achievement Strategist who teaches people across the country how to take their visions of achievement and success from being a thought or a wish to making them a reality. She is the author of the new book Start Winning – How to Achieve Like the Top 8 Percent. She is the host of the popular podcast, Designing Your Life Today.