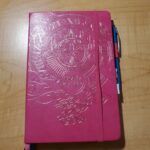 When it comes to goal achievement, planners are necessary.  Having the right type of planner will keep your thoughts focused, and make it easier for you to be more productive.  Planners are a great tool for measuring productivity, establishing benchmarks, and milestones.  They can also be used to assess whether you are on track for achieving your goals.  But all planners are not created equal.  I have used several different planners over the years and these are the ones that have helped me stay on track when achieving my goals:
 Legend Planner – I consider this to be an all inclusive planner.  It is one of my favorites and well worth the price.  (See mine in the photo above.)  It is more of a life planner with space for a vision board, places for jotting down your thoughts and goals.  I use it to measure productivity, establish benchmarks and set milestones.
Clever Fox Planner 2nd Edition –  Like the Legend Planner you can schedule your month and week at a glance; however, this planner has easy to follow habit trackers.  The 12 month view makes it easy for you to set benchmarks and milestones.  The goal setting section is simpler and easier to follow.  You can set your goals for the year, then choose your 5 most important goals to focus on achieving.
There are many planners you can choose from, but the object of the game is to position yourself to stay focused and productive, when it comes to achieving your goals.  I have use other planners, but I found the Legend Planner and Clever Fox Planner to be among the best most effective planners.